Dimorpha mutans
Gruber, 1881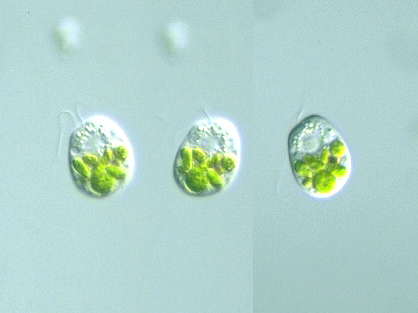 Genus: Ovoid or subspherical; with two flagella and radiating axopodia, all arising from an eccentric centriole; nucleus eccentric; pseudopods sometimes withdrawn; fresh water (Kudo, 1966).
Species: Spherical cell body (heliozoan type) 15-22 μm in diam. (Page & Siemensma, 1991).

Similar genus -->> Ciliophrys;
---
Dimorpha sp.?, cell body 24 μm long, 18 μm wide, x 640, near Fukasaku-gawa Yusuichi, Saitama city, Saitama Pref., Japan, May 2002 by Y. Tsukii


31 μm

63 μm

94 μm; x 640



D. mutans Gruber: 15-20 μm diam.; flagella about 20-30 μm long (Kudo, 1966).
D. floridanis Bovee: Flagellate phase 18-20 μm long, 6-7 μm wide; two flagella 10-12 μm long, one directed anteriorly and the other bent laterally; heliozoan form 8-10 μm diam.; fresh water (Kudo, 1966).
---
Please click on images for viewing enlarged.
Copyright Protist Information Server