Heliozoea: Ciliophryida (Page & Siemensma, 1991; Protistology 3rd ed., 2003)
Silicoflagellata: Pedinellales (Illustrated guide, 2000)
Dictyochophyceae: Ciliophryales

Ciliophrys
Cienkowsky, 1875 (Illustrated guide, 2000)
Cienkowski, 1876 (Page & Siemensma, 1991)
Order: Body naked; flagellate stage, with 1-4 flagella (Illustrated Guide, 1985).
Genus: With extremely fine radiating filopodia; with a single flagellum which is difficult to distinguish from the numerous filopodia, but becomes conspicuous when the pseudopodia are withdrawn (Kudo, 1966).

Similar genus -->> Dimorpha;

---
Please click on species name for more images.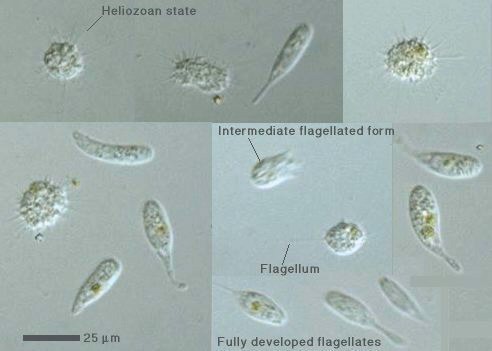 Copyright
Protist Information Server