Chrysophyceae: Chromulinales: Chromulinaceae
Chrysapsis sagene
Pascher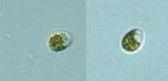 Family: Minute form; naked or with sculptured shell; with a single flagellum; often with rhizopods (Kudo, 1966).
Genus: Solitary; plastic or rigid; chromatophore (chloroplast) diffused or branching; with stigma; amoeboid movement (Kudo, 1966). Chromulina-like; reduced reticular parietal chloroplast; extraplastidial stimga for some species; 2 contractile vacuoles (Illustrated Guide, 1985).
---
Chrysapsis sagene ?, cell body 11 μm long, 7-8 μm wide, chloroplasts located at the posterior half of the cell body , x 400, Japan, 199? by Y. Tsukii


20 μm

40 μm

60 μm; x 1000


C. sagene Pascher: Anterior region actively plastic; stigma small; 8-14 μm long; flagellum about 30 μm long (Kudo, 1966).
---
Please click on images for viewing enlarged.
Copyright Protist Information Server