Spirotrichea: Stichotrichida: Urostylina: Urostylidae
Urostyla
Ehrenberg, 1830
Suborder: Frontoventral cirri as 2 or more zig-zag files almost full length of ventrum.
Family: Frontal cirri differ in size and/or pattern from ventral ones of files; "collar" extends short distance along right edge of body; oral area not U-shaped (Illustrated Guide, 1985).
Genus: With 2 or more right marginal files of cirri (Illustrated Guide, 1985). Ellipsoid; flexible; posterior rounded; flattened ventral surface with 4-10 rows of cirri; 2 marginal rows; 3 or more frontals; 5-12 anals (Kudo, 1966). Ovoid to elongate with large number of ventral rows of cirri (files); transverse cirri present; frontal cirri undifferentiated from ventrals (Carey, 1992).

Similar Genus -> > Holosticha ; Pseudourostyla
---
Please click on on species name for more images.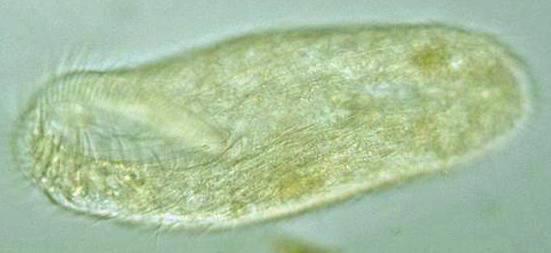 2 or more right marginal files of cirri .
Copyright Protist Information Server