Lobosea: Gymnamoebia: Amoebida: Conopodina: Mayorellidae
Mayorella penardi
Page, 1972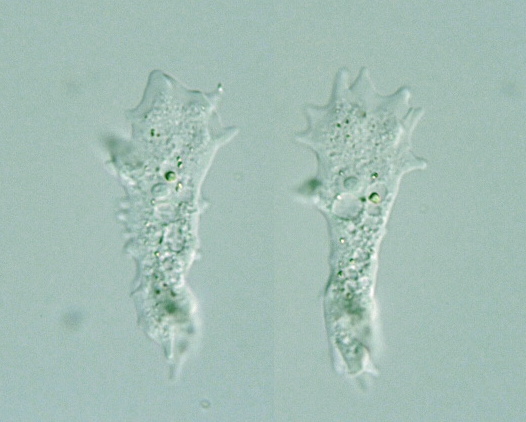 Genus: Clear pseudopods, formed from clear anterior, more or less broad margin (Illustrated Guide, 1985).
Group II: subpseudopodia, broadly based mammilliform or nearly hemisperical pyramids. (b2: Pseudopods triangular; locomotive less than 100 μm)
Species: 50-125 (usually < 100) μm; L/B to 4.5; with shallow anterior hyaline edge which bears several mamilliform pseudopodia; may divide into Y shape in changing direction; floating form usually irregularly rounded, very rarely radiate; nucleus 6.5-10 μm (Page, 1976).
---
Mayorella sp., locomotive form 80 μm long, 25 μm wide, x 640, used waterfield near Karakemi marsh (Yasaka village), Matsuzaki, Omachi city, Nagano Pref., Japan, April 24, 2005 by Y. Tsukii


31 μm

63 μm

94 μm; x 640

M. bigemma (Schaeffer, 1918): Locomotive, 100-450 μm long; pseudopods, clear, conical 8-90 μm long; uroid, temporary, morulate; ectoplasm, thin, clear; endoplasm, clear, vesicular, granular; nucleus, spherical, 10-12 μm; endosome, 5-6 μm; crystals, truncated, bipyramidal, 1-2 μm long (Illustrated Guide, 1985).
---
Please click on images for viewing enlarged.
Copyright Protist Information Server