Hedriocystis reticulata
Penard, 1904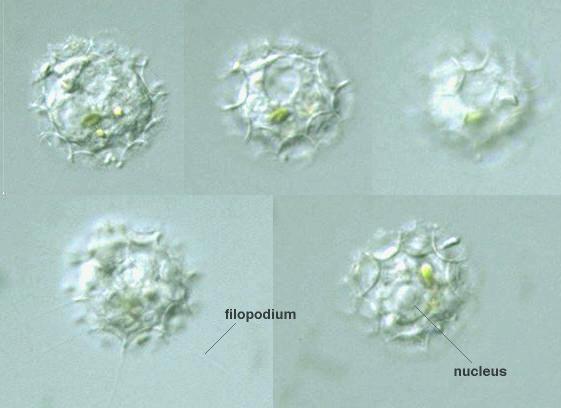 Genus: Body in a perforated organic causule with filopodium. Simliar to Clathrulina.
Species:
---
Hedriocystis reticulata, cell body spherical, 30 μm long, x 400, x 640, Japan, 1999 by Y. Tsukii


50 μm

100 μm

150 μm; x 400 :

31 μm

63 μm

94 μm; x 640











Hedriocystis reticulata: Cell body spherical, ~12 μm in diam.; clear to yellow capsule with many minute pores, each in a polygonal facet with raised edges; stalk ~3 x as long as diam. of capsule; ectoplasm granular, not distinct from endoplasm; nucleus spherical, ~6 μm in diam. located at the center of the cell body; axopods originate centrally, extend through capsular pores, 1 per pore; a single contractile vacuole; freshwater (Illustrated Guide, 1985).
Hedriocystis pellucida:
---
Please click on images for viewing enlarged.
Copyright Protist Information Server