Filosea: Gromiida: Gromiina: Gromiidae
Gromia sp.
Dujardin, 1835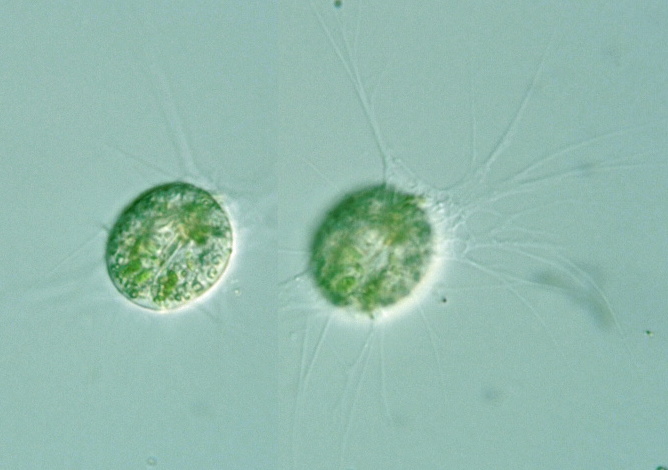 Genus: Thin test spherical to elongate ellipsoid; pseudostome terminal; many filopodia, branching and anastomosing; many species (Kudo, 1966).
Species:
---
Gromia sp., test 37 μm long, 33 μm wide, x 640, Kinu-fureai beach near Kinu River, Kami-kuwashima, Utsunomiya city, Tochigi Pref., Japan, November 28, 2004 by Y. Tsukii


31 μm

63 μm

94 μm; x 640



Gromia oviformis Dujardin, 1835: Cell body 150 - 3000 μm diam.; test round to elliptical; pseudostome 1/5 diam of test, with short collar, membranous, clear; pseudopods faintly granuluated, branching, anastomosing; multinucleated (Illustrated guide, 1985).
Gromia fluvials: Cell body 90 - 250 μm diam.; test spherical, smooth, membranous and slightly flexible, or with sparsely distributed siliceous particles; filopodia (pseudopods) anastomosing; cytoplasm yellowish; fresh water (How to know the protozoa, 1979).
---
Please click on images for viewing enlarged.
Copyright Protist Information Server