Difflugia oblonga
Ehrenberg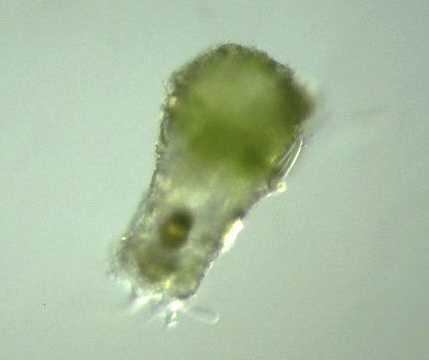 Genus: Pseudostome lacks lobed collar; test round or oval in cross-section; with or lacking a collar (Illustrated Guide, 1985).
Species: Test pyriform, flask-shaped, or ovoid; neck variable in length; aperture terminal, typically circular; test composed of angular sand-grains, diatoms; 60-580 μm by 40-240 μm (Kudo, 1966).
---
Difflugia sp., test 240 μm long, 140 μm wide, L/W=1.7, pseudostome 74 μm wide, P/W=0.52, x 100, x 200, x 400?, Sashi-ohgi, Saitama city (Omiya), Saitama Pref., Japan, October 2002 by Y. Tsukii


50 μm

100 μm

150 μm; x 400



cf.
Wailesella Deflandre, 1928: Test oval, round in cross-section; pseudostome at one end of ventral surface (Illustrated Guide, 1985).
---
Please click on images for viewing enlarged.
Copyright Protist Information Server