Haptophyceae: Isochrysidales: Derepyxidaceae
Prymnesiida:
Spongomonas uvella
F. Stein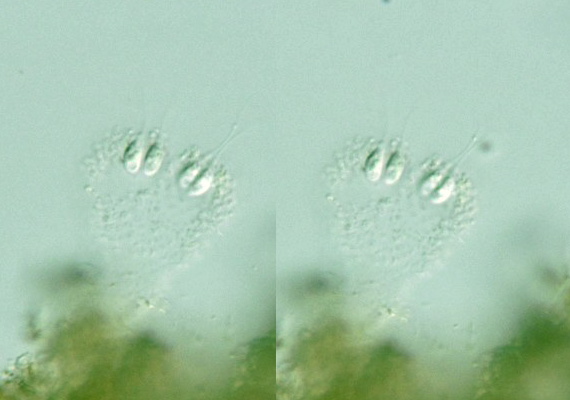 Family: Two long flagella, 1-2 chloroplasts and 1-2 contractile vacuoles present (Starmach, 1985).
Genus: Cell body naked, colorless (without chloroplasts), a contractile vacuole present, colony embedded in a gelatinous matrix of various shape (Starmach, 1985).
Species: Cell body oval, 8-12 μm long; flagella 2 to 3 times as long; colony about 50 μm high; fresh water (Kudo, 1966).
---
Spongomonas uvella, cell body μm long, μm wide, L/W=, x 640, No.1, Water reservoir, near Teruoka pasture, Nabekura highland, Iiyama city, Nagano Pref., October 19, 2008, by Y. Tsukii


31 μm

63 μm

94 μm; x 640




Images of collecting locality: Water reservoir, near Teruoka pasture, Nabekura highland, Iiyama city, Nagano Pref., October 19, 2008, by Y. Tsukii




---
Please click on images for viewing enlarged.
Copyright Protist Information Server