Chrysophyceae: Ochromonadales: Ochromonadaceae
Ochromonas verrucosa
Skuja 1939 (John et al. eds. 2002)
Genus: Solitary or colonial; body surface delicate; one to two chloroplasts; usually with a stigma; fresh water (Kudo, 1966). One to several chloroplasts; pyrenoid and/or eyespot (stigma) in some; cells naked, globular, ellipsoidal or pyriform (Illustrated Guide, 1985).
Species: Cell body 19-27 μm long, 12-18 μm wide (Starmach 1985).


O. verrucosa
24 μm
Tanohara Natural p.
Ontake highland
Nagano, 2005

O. verrucosa
μm
Ushidome-ike
Norikura highland
Nagano, 2007


O. verrucosa
23 x 21 μm
Numa-no-hara m.
Madarao highland
Niigata, 2007


O. verrucosa
μm
Omine-numa 1
Minakami
Gunma, 2008


O. verrucosa
μm
Kareki-numa
Nikko
Tochigi, 2008

O. verrucosa
μm
Shijuhachi-ike 1
Shiga highland
Nagano, 2008


Similar Species ->> <!a href="../pinguis/index.html">O. pinguis (10-12 μm long)
Similar Genus ->> Monas

---
Please click on species name for more images.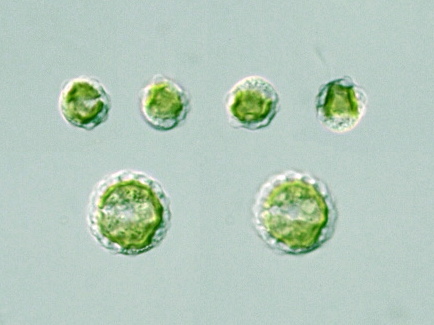 Copyright
Protist Information Server