Litostomatea: Haptoria: Pharyngophorida: Tracheliidae
Trachelius
Schrank, 1803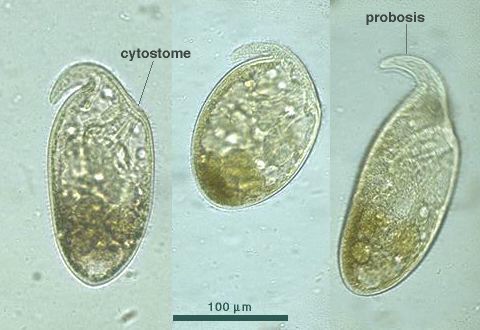 Genus: Body oval to round, rear rounded; 1 proboscis (Illustrated Guide, 1985). Round cytostome at base of neck; contractile vacuoles many (Kudo, 1966).
Species:
---
Trachelius sp., cell body 250 μm long, 85 μm wide, x 200, x 400, Japan, 1997 by Y. Tsukii
ovum small variety ?; but the shape of cytostome and the size of contractile vacuoles are different from those of ovum


100 μm

200 μm

300 μm; x 200



50 μm

100 μm

150 μm; x 400



T. ovum Ehrenberg, 1833: 200-400 μm long; ellipsoid body; cytoplasm much vesiculated, granular, in bands; many water expelling (contractile) vacuoles (How to know the protozoa, 1979).

---
Please click on images for viewing enlarged.
Copyright Protist Information Server