Oligohymenophorea (formerly Nassophorea): Peniculida: Frontoniina: Frontoniidae
Disematostoma minor
Lauterborn, 1894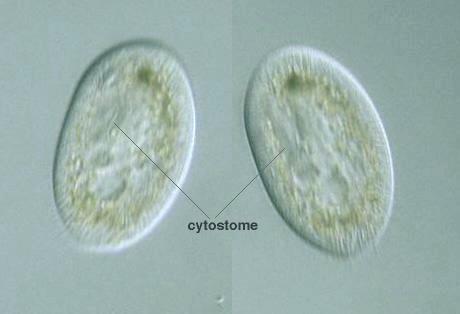 Genus: Striated sutural regions dorsal and to rear of cytoproct; body tapers to rear from 3 sides (Illustrated Guide, 1985). Broadly rounded anterior end and bluntly pointed narrow posterior end; sausage-form macronucleus; a micronucleus; contractile vacuole middle of body with collecting canals; fresh water (Kudo, 1966).
Buccal structure is well-stained by azure C (Y. Tsukii, 2000).
Species: Cell body 75 μm; long (Kahl, 1930).

Similar Genus ->> Frontonia
---
Disematostoma small variety, posterior rounded, cell body 100 μm long, 60 μm wide, x 400, Vermont-Maine U.S.A., August 7-13, 1999, by Y. Tsukii


50 μm

100 μm

150 μm; x 400


D. bütschlii, Lauterborn: 135-155 μm long; with or without zoochlorella; fresh water (Kudo, 1966).
D. colpidioides von Gelei: Reniform, twisted; 100-160 μm long (Kudo, 1966).
---
Please click on images for viewing enlarged.
Copyright Protist Information Server