Litostomatea: Haptoria: Haptorida: Spathidiidae
Bryophyllum sp.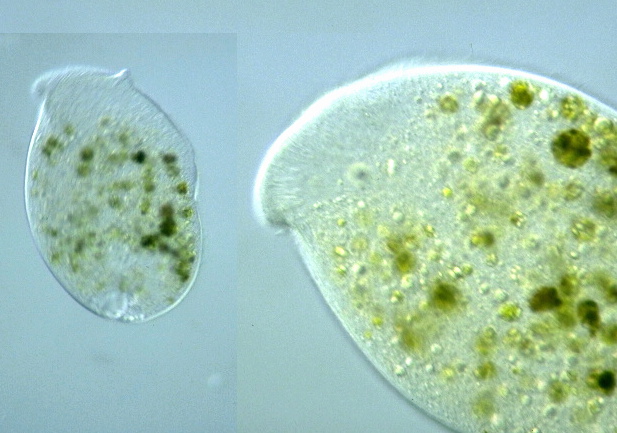 Family: Apex somewhat to much fan-shaped; oral region along apex, may extend ventrally (Illustrated Guide, 1985). Cytostome slit-like, situated apically on non-ciliated ridge of the body (Carey, 1992).
Genus: Body flattened, crescentic (Illustrated Guide, 1985).
Species: Cell body 160 μm long when extended, 130 μm long when contracted (Kahl, 1930).


Similar genus -->> Spathidium;
---
Bryophyllum ?, cell body μm long, μm wide, x 640, Doman-green Park, Nishi-Urawa, Saitama Pref., Japan, February 2003 by Y. Tsukii


50 μm

100 μm

150 μm; x 400 :

31 μm

63 μm

94 μm; x 640



Ref.
Bohatier, J., Iftode, F., Didier, P., Fryd-Versavel, G., 1978, Sur l'ultrastructure des genres Spathidium et Bryophyllum, ciliés Kinetophragmophora (de Puytorac et al., 1974). Protistologica 14, 189-200.

---
Please click on images for viewing enlarged.
Copyright Protist Information Server