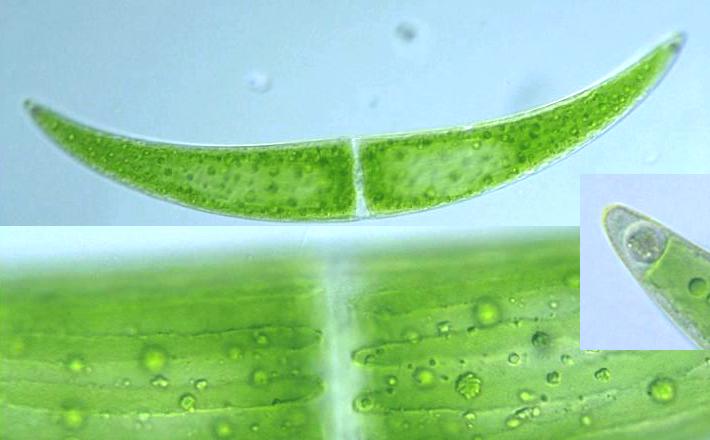 Species [var. ehrenbergii]: Cell body large, swelled at the center (inner-side straight or slightly convex), 230-(384-416)-880 μm long, 44-(64-84)-170 μm wide, L/W=4-6; cell wall smooth, colorless, bands absent; chloroplasts with 4-7 laminae, with many pyrenoids scattered.
[ var. atumidum Grönblad ]: Inner side not convex, (416-508)-560 μm long, (60-69)-72 μm wide (Illustrations of The Japanese Fresh-water Algae, 1977).
[ var. podolicum Gutwinski ]: Both ends slightly recurved, 382 μm long, 86 μm wide. (Photomicrographs of the Freshwater Algae, vol.9, 1989).
[ var. malinvernianum (De Notaris) Rabenhorst ]: Cell wall lined (10-12 striae/10 μm), brownish in color; 265-520 μm long, 52-75 μm wide, L/W=4-7.
[ var. michailovskoense Elenkin ]: Cell wall dotted (ibid., vol.4, 1985).