Chlorophyceae: Chlamydomonadales (Volvocales): Chlamydomonadaceae
Chlamydophyceae: Chlamydomonadales: Haematococcaceae
Volvocida: Chlamydomonadina: Chlamydomonadidae
Chlorogonium elongatum
(Dangeard) Francé 1897 (An Illustrated Guide to Freshwater Zooplankton in Japan, 2000)
(Dangeard) Dangeard 1899 (Süßwasserflora von Mitteleuropa 9, Chlorophyta I, 1983)
identified by Takashi Nakada ( Department of Biological Sciences, Graduate School of Science, University of Tokyo)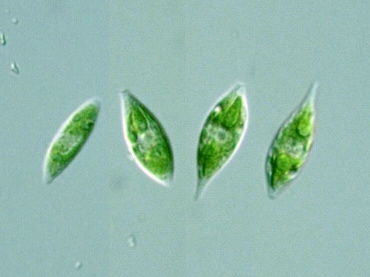 Species: Cell body fusiform or elongated ovoid, 20-53 μm long, tapered at both ends, cell wall thin, chloroplasts plate-like, with two large pyrenoids one located at anterior half and another at posterior half, stigma ovoid or pear-shaped, located at anterior 1/4-1/3 of the cell body, many contractile vacuoles (An Illustrated Guide to Freshwater Zooplankton in Japan, 2000).
Cell body fusiform to spindle-shaped, 20-80(-120) μm long, 4-10(-12) μm wide; stigma longitudinally elongated elliptical, located close to tapering anterior end; [var. truncatum Skuja 1956]: 20-35 μm long, 3-5 μm wide; [var. opulentum Ettl 1960]: 120-155 μm long, 10-12 μm wide; [var. gigas Hortobagyi 1979]: 100-110 μm long, 15-17 μm wide; (Süßwasserflora von Mitteleuropa 9, Chlorophyta I, 1983).
Cell body spindle-shaped, 23-50 μm long, 4-9 μm wide (Illustrations of The Japanese Fresh-water Algae, 1977).
---
Chlorogonium elongatum (or similar species), stock Sssm-5, identified by T. Nakada, axenic culture with EM (December 7, 2004), cell body 29 μm long, 8 μm wide, x 640, rice field, Shimo-muneoka, Shiki city, Saitama Pref., Japan, October 24, 2004 by Y. Tsukii


31 μm

63 μm

94 μm; x 640



Cell body μm long, μm wide, x 640





Chlorogonium elongatum (Dangeard) Dangeard, stock Sssm-5, identified by T. Nakada, axenic culture, bar represents 5 μm, x 640, rice field, Shimo-muneoka, Shiki city, Saitama Pref., Japan, October 24, 2004 collected by Y. Tsukii, photo by T. Nakada


---
Please click on images for viewing enlarged.
Copyright Protist Information Server