Protist Movie Database
Chlorophyta: Chlorophyceae: Chlamydomonadales (Volvocales): Chlamydomonadaceae
Chloromonas tenebraria
(Skuja) Gerloff et Ettl
Syn.: Chlamydomonas tenebraria Skuja 1964

Genus: Similar to <!a href="../../Chlamydomonas/index.html">Chlamydomonas, but pyrenoids absent.
Species: Mature cell body spherical, 12-15 μm in diam.; young cell body ellipsoidal, 8-13 μm long, 4-7 μm wide; stigma rounded, located anterior half of the cell body (Süsswasserflora von Mitteleuropa 9, Chlorophyta I, 1983).

---
Chloromonas tenebraria (Skuja) Gerloff et Ettl (or C. coccinella Gerloff 1962 ?), tape No. 0050, time code 0000, cell body spherical, 11-16 μm in diam., Uruguay, November 1999, photo by Yuuji Tsukii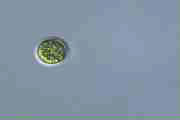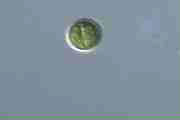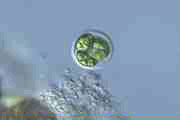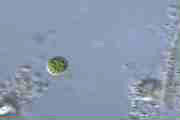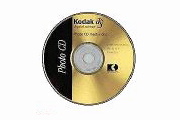 ---
Please click on species name for viewing movies.
Copyright 1995-2007 Protist Information Server