Various forms of leaves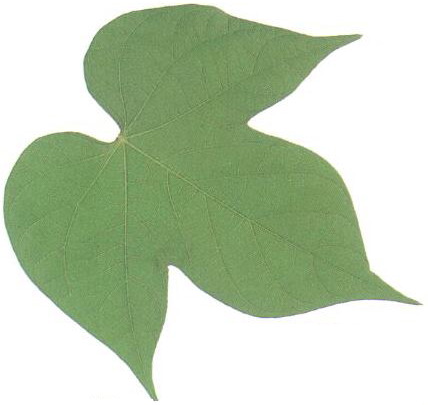 (above) Ordinary leaf or Orthodox leaf ("Nami-ba" or "Tsune-ha") A basic leaf form in the morning glory (Ipomoea nil) This is a normal leaf form that may be near to that of the original species. With this leaf form, we generally see round flowers bloom.



(right) This form is also an ordinary leaf. It is called a three-pointed (or three-lobed) leaf, too. The leaf is divided into 3 lobes by constriction, and the tip of each lobe is pointed characteristically.

In addition to studying variations in flower color and form, let's pay attention to these characteristics in leaves. We often become aware of differences in leaves when we look at them carefully. Sometimes we can imagine what kind of flower blooms just by observing the shape of a leaf. In the mutant morning glory, not only have varied colors and shapes of flowers been brought up, but also various colors and shapes of leaves.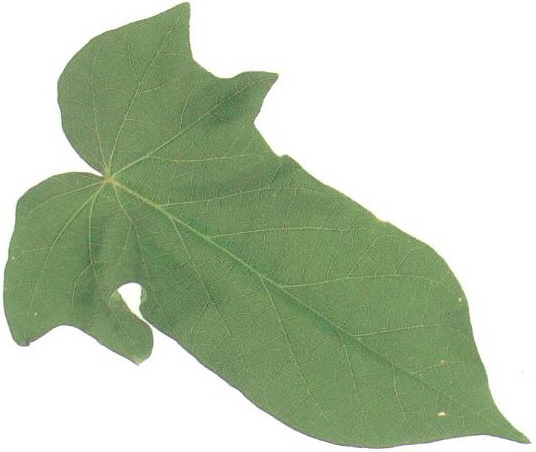 (above) Dragonfly leaf ("Tonbo-ba") The middle lobe is long and narrow, and there are 2 pairs of lobes from side to side at the basal part of the leaf. In some cases, there can be only one pair of lobes, as shown below. This type is called the dragonfly leaf because its shape resembles a dragonfly spreading its 4 wings. Its flower is large.